First, this is just another redirect thread to another existing thread but with extra information from another source. Link:
http://forums.playpa...dventurers-koc/
Getting To the Evolving World
---
Evolving System is available to those that are above Level 100 & you can access through Dimension Mirror.


The Evolving System uses a Core to generate a virtual world that changes according to the user's preference. Basically, you can make your own maps, for both yourself and your party! (Thanks to Fiel for these images)


ESS
ESS is the main NPC to enter the Evolving World.
When you first click on him, he'll have two options:
Enter Evolving World
and
Questions about the Evolving World.

When you click to enter, you'll get this window



This is where you may customize your evolving world with cores. Cores are an optional (but highly recommended!) part of the evolving world. Cores can be found from monsters inside the Evolving World or by buying them from Machine-C2 (see below).
Let's break down this window for easier understanding.


Here is where you put in cores. On the left is monster, mission, and technical customization. However, you'll note that there are 4 locked slots. To unlock them, I will explain below.
Additionally, the middle slot, you can tell is not round like the adjacent slots. This is because it is solely for special cores.

At the right, is the environmental changes. This includes Music Change, Monster Skin Change, and Background Change.


This section is simply just a summary of what cores you put in. The top half is for the technical changes and the bottom half is the environmental changes.


And of course, this is simply a inventory for the cores you gotten. Very convenient, so it wont be clogging up your inventory!
The button on the left is for organizing them.


Now, clicking on the second tab will lead you to this window


KMS



GMS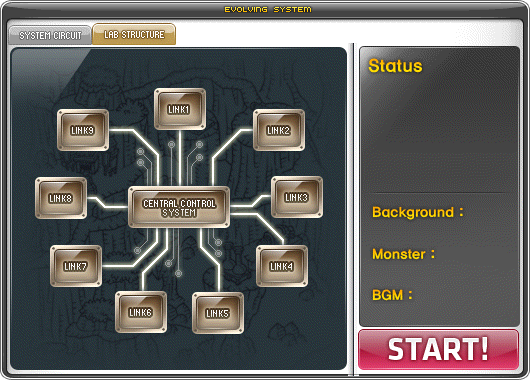 This window is basically an overview of your Evolving World. It'll tell you where quests are (the '!') and if you added any mission quests it'll show that as well.



This NPC is a coin shop.

To get coins, you can simply do the quests in each Link map or kill mobs.
The Machine-C2 will sell you some items, which I will update on it is release
I think you can also buy cores from here. A few will require coins, the rest require mesos. However do note that C2 will not sell all available cores.

Entering the Evolving World

---
Once you are ready, press START! on the Evolving World window. You'll then be inside your evolving world. Please also note that you can enter with a party.


Once you get in, you'll see this NPC. This is the Monster Generator. To spawn (or despawn) the monsters, you must click on this generator.

As I said before, every map in here will have a specific quest.


For completing the quest, you can obtain a coins, cores, and/or EXP!


Some things to note about the Evolving World:
You are only allowed inside for 30 20 minutes.
You can only enter 5 times a day.

This post has been edited by prinnygame: 30 August 2013 - 12:52 AM