Patch ->Sengoku Hyper Skills and Zen Relaunch
Cash Shop update:
• Vega's Spell (10%)
Make 10% scroll to 30% pass rate
• Vega's Spell (60%)
Make 60% scroll to 90% pass rate
• Medal Fusion Anvil
The Medal Fusion Anvil enables appearance alterations when it fuses Medal items. The effect is decided by the stat item. There is a risk that items with similar appearance may be fused together! Useable equipment: Medals.
• Premium Monster Incubator
• Chief Knight Weapon Box
Open this box and get a cute puppet weapon that resembles the Cygnus Chief Knight! You will obtain one of five random items that can be equipped with all weapons.
• Premium Water of Life
Skip quest and give 90days life to your pet that turns to doll.
• Beige Bear Hair Band (Perm)
• Pink Bear Hair Band (Perm)
• Blue Bear Hair Band (Perm)
• Miracle Box
Chances to get 1-2 miracle cube of any type.
• Superior Shielding Ward
A magical shield that protects a superior item. Using this on a piece of superior equipment protects it from being destroyed by a failed scroll 1 time. Protection also disappears after a successful scroll use, and it cannot be used on items that have been successfully enhanced 7 or more times.(eg. tylent equip)
• Lunar Celebration Boy Package
• Lunar Celebration Girl Package
• Bloody Queen
Pet
• Ban Ban
Pet
• Pierre
Pet
• Mirror of Seduction
Bloody Queen pet equipment
• Banban's Staff
Ban Ban pet equipment
• Pierre's Umbrella
Pierre pet equipment
• Fruit of World Tree
Bloody Queen, Ban Ban and Pierre pet food
• Sengoku Remedial Challenge Ticket
Sengoku High?
What is Sengoku High?
Red Leaf High is back—Sengoku style! Oda Nabunaga has taken over the school. You'll need to fight your way through all the classes before you can face down Mori Ranmaru! Sengoku High is a newer version of Red Leaf High which is like a quest / monster-killing dungeon. It allows you to advance through various stages to kill monsters for exp and Oda coins.
Are there rewards?
Yes. You use the Oda coins that are dropped to buy these.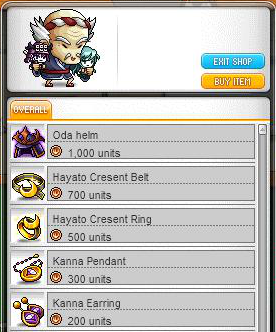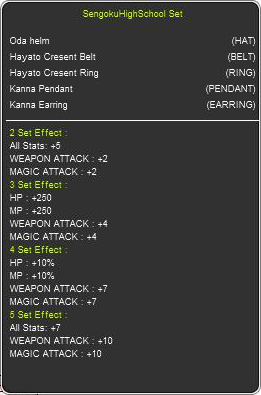 Also, as a bonus, after equipping all 5 items, talk to Oda Nobunaga and complete the quest Sengoku Brave Warrior Manual to receive the skill Sengoku Secret Manual: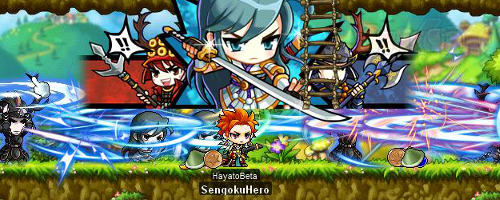 GMS version:
Warring States Manifesto: Summon the Sengoku generals to attack. Max Enemies Hit: 15, Damage: 500%, Number of Attacks: 3, Cooldown: 180 sec
What do I do once I get in?
Go through stages and kill each boss
You will kill 1 boss/monster per room in about 20 stages. The boss in each room will be in the form of a Maplestory character class... Kanna, Mercedes, Demon Slayer, etc. For those unfamiliar, here is a (of a different MS's Sengoku High) that should give you a general idea of how this works; a player goes through each stage, defeating each monster, and earning Oda Coins. Maplers have reported earning 50-100 coins per run.
Again we getting nerf version of Sengoku high, instead of Totems
• Sanada Yukimura Totem: Untradeable, Unique Equipped item, STR: +24, DEX: +24, INT: +24, LUK: +24, ATT: +8, M. ATT: +8
• Honda Tadakatsu Totem: Untradeable, Unique Equipped item, STR: +24, DEX: +24, INT: +24, LUK: +24, ATT: +8, M. ATT: +8
• Yesugi Kenshin Totem: Untradeable, Unique Equipped item, STR: +24, DEX: +24, INT: +24, LUK: +24, ATT: +8, M. ATT: +8
we getting the oda helm, hayato cresent belt/ring and kanna pendant/earring.
This post has been edited by Rirakk: 08 January 2014 - 02:28 PM